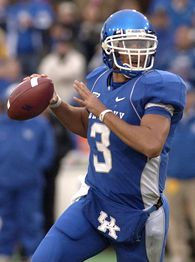 Get a good look at this kid. You'll be seeing a lot of him. He is Andre Woodson, and he might be the best pure pocket passer in the country. What he is
not
is the scrambling, physical quarterback who has given us fits this season. We have really played well against drop back passers this season by getting pressure on them, and Woodson can certainly be pressured. He's been sacked 12 times this year, which is actually a significant improvement from his pace last year, in which he was ultimately sacked 36 times.
Kentucky presents a new type of challenge for us. They are a finesse team, with probably the best collection of skill position offensive players in the conference. Outside of Woodson, the best passer in the conference, they have wide receiver Keenan Burton who may be a 1st team All-SEC wide receiver, Jacob Tamme who may be the best tight end in the country, and Raphael Little who is averaging 6.7 yards per carry as a running back.
As a team, they are averaging over 6 yards per carry if you take out the sacks from the equation. In other words, this is an explosive offense that can move the ball and score. Points scored in their games are 50, 56, 40, 42, 45, and 23.
But it's also an offense that I think can be dominated at the line. That 23 number was put up against the only really good defensive team they've played: South Carolina. The Gamecocks also scored two defensive touchdowns. They did it by beating Kentucky at the line of scrimmage and forcing fumbles. South Carolina, in beating Kentucky at the line of scrimmage and by successfully covering the receivers (SC has one of the nation's best passing defenses), really made Kentucky look pretty bad at times.
Defensively, Kentucky is hardly a juggernaut. They've given up scores of 10, 20, 34, 29, 17, and 38. They are 10th in the league in rushing defense, and 7th in the league in passing defense, having not really played a lot of great teams. They are 10th in the conference in total defense, and 2nd in total offense.
I think I'm not really going out on a limb by saying that Kentucky is not as good as we are. They have great skill position players, but they don't have the athletes all over the field that we have. We are the kind of team that, if we come prepared to play, can beat Kentucky soundly. We can dominate them at both lines of scrimmage and we can bring wave after wave of quality running back and wide receiver at their linebackers and defensive backs and wear them down.
Ah, but there's that phrase. "If we come to play." You may have noticed we played a game not that long ago, and that it may have been somewhat draining. Alright, it was the most physical and emotional game we've played in recent memory. It was maybe the most emotional win this team has had in the regular season since Herb Tyler beat Florida. The fans at least have not really moved on from it. The coaches and the players had better be way ahead of the fans, because Kentucky has had a long week, having played last Thursday.
This game will be decided by the mental element. I think if we're ready to play, we are a much better team and we are likely to win it going away. If we're flat and not ready to play, like we were against Tulane, we may very well get beaten. Kentucky is much more dangerous than Tulane. They may be soft, but they have a high skill level.
This is the sort of game where teams lose championships. As often as a good team loses a titanic matchup against another championship calibre team, it seems that more often that team loses to a decent but inferior team that simply catches them unprepared to play. Think of Florida losing to Auburn last year, or Oklahoma losing to Colorado this year. Or any number of upsets this year for that matter. This is what we're up against this week, the possibility of a let down.