I can't help but notice that comments have slowed down considerably since I started posting Bullwinkle-related images at the front of blog entries. If there's a correlation there, I'm highly disappointed in my readership. Come on! It's Bullwinkle!
I woke up this morning to this headline on Tiger Bait: "Flynn Questionable". Miles says he's day to day, and that we'll know more about whether he'll play tomorrow. Also questionable is strong safety Craig Steltz.
Around the SEC:



Mississippi State at Auburn
, 11:30am, Lincoln Financial. I know I've said that I doubted MSU would win a conference game all season, but allow me to present this game as a
potential
upset. Having watched both of these teams play, I think MSU matches up pretty well against them. Auburn has a great right side defensive end in Quentin Groves, but MSU matches up with a left tackle (Michael Brown) who held Kirston Pittman in check for a whole game the week before Pittman earned SEC Defensive Lineman of the Week honors for his performance against Virginia Tech. Auburn's offensive line is VERY suspect, and MSU's defensive line is quite good. If Michael Henig can take care of the ball and if Michael Brown can hold Quentin Groves in check, MSU has a shot here.
Western Carolina at Georgia
, noon: Georgia gets a salve for its post-South Carolina wounds by playing a D1-AA school that Bama absolutely trounced. Next week: Bama.
Tennessee at Florida,
2:30pm CBS: Finally, a CBS afternoon game. Tennessee's defense looked pretty bad against Cal, and frankly Tim Tebow looks like he's going to be the hardest person to defend in the entire conference this year. He's going to give defensive coordinators fits all year. I don't think there is a single person in the conference, not even Darren McFadden, who is so heavily integrated into his team's offense than is Tim Tebow for Florida. I think to beat Florida's offense, you have to play disciplined assignment-based defense; you need corners who can cover good receivers man-to-man; you need defensive linemen who can penetrate consistently; and you need linebackers fast and athletic enough to stop runners from getting to the corner. If your cornerbacks need to provide run support, they'll fake a run and throw it to the receiver the corner isn't covering.
The good news, if you're Tennessee, is that it looks like Florida's defense is going to give up a lot of points. This really is an interesting matchup, and it could get very high scoring. Tennessee's defense is going to have to play better than it did against Cal, but honestly Florida doesn't have the kind of speed that burned Tennessee repeatedly. I'm not saying Florida has no speed, but Cal had all-world type speed.
Arkansas at Bama
, 5:45 ESPN: Bama has looked better than expected, but they haven't faced a guy like McFadden. This will be a tremendous test of their questionable front seven. Even without Marcus Monk, Arky is a bigger test than Vandy. Bama will get a big boost from their home crowd, but if McFadden or Jones breaks off a big run early, that could take the crowd out of it. On the offensive side of the ball, Bama really has to get John Parker Wilson rolling. He doesn't have a touchdown pass yet and is averaging only 6.4 yards per pass attempt. He's been one of the least effective QBs in the conference so far this season. I don't know much about Arkansas's defense, but they'll probably need Wilson to have a break out game if they hope to win this one.
Another interesting stat about John Parker Wilson: he has not scored a rushing touchdown either this season or last season. He was the only full-time starting quarterback in the SEC last year not to score a rushing touchdown last year. So far, five SEC quarterbacks have scored rushing touchdowns.
Ole Miss at Vandy
, 6:00pm: Vandy, a team I maintain should be pretty good, tries to recover from a pretty devastating loss to Bama last week. They're better than Ole Miss, or at least they're better than the Ole Miss team that gave up about 1000 yards to Missouri. If not for some very untimely penalties and an injury to their QB, last week's game could have been different. If Nickson is healthy, look for him to try to take revenge on Ole Miss.
South Carolina State at South Carolina
, 6:00pm
:
Honestly, what is there to say that hasn't already been said. It's "State" versus "U". What more do you need?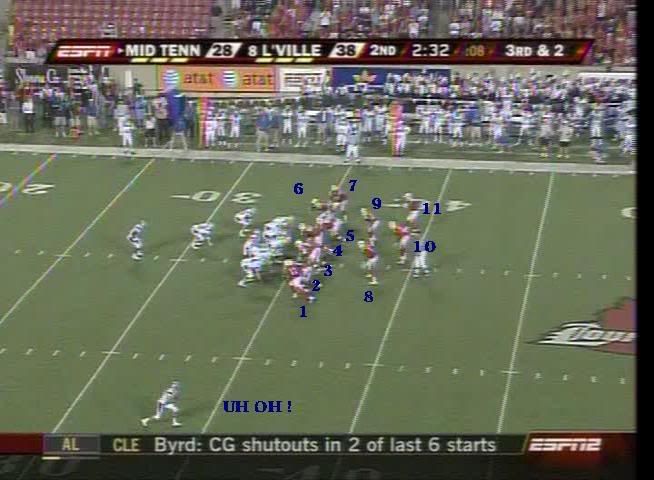 Louisville at Kentucky,
6:30pm, ESPN Classic: That's right, it's on ESPN
Classic
. What does this say about this matchup? Nothing, really, but it is actually quite an interesting looking game. Frankly, despite Louisville's lofty top 10 ranking, they still have a lot to prove after giving up 42 points to Middle Tennessee State University. Granted, they scored 58 points against MTSU, and Kentucky is not known for stellar defense, but they can't afford to leave receivers open the way they did. If you don't believe it, check out the picture to the left. Neither of these teams has really proven to be any good this year. I suppose that's what they mean when they describe this as a "Credibility Game". The winner gets to say, in all honesty, that they've accomplished something. Good luck Cats.